Storage Facilities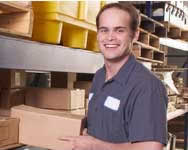 Looking for Greensboro and Raleigh storage facilities? Excel has your solution with both our centrally located warehouses in the two cities. Our Greensboro and Raleigh storage facilities are equipped to handle any amount of household storage for your local, interstate, and international moving.
Our expansive Greensboro and Raleigh storage facilities are designed to manage your belongings during your next relocation. We provide temporary and permanent storage depending on your needs. Whether you just need to store a new chair until you move into your new place or you're storing an extra bedroom set that no longer fits your design scheme, we have the storage solution.
Storage Units in Raleigh NC
At Excel, we offer containerized storage for your household goods. There is no storage amount too small or too large for our  Raleigh storage units to hold. Storage units in Raleigh NC boast a 50,000 square foot capacity. That is nearly 100,000 square feet of storage space where we store your belongings in specially constructed vaults.
Both warehouses are secure to ensure the best protection for your belongings. We have full security systems for both the Raleigh storage location and the Greensboro warehouse. This includes an alarm system and a camera monitoring system. Both of our storage facilities are fireproof and climate-controlled. You can rest assured that when your household goods are in our storage facilities, they will remain safe.
Storage Units in Greensboro NC
There are no long term contracts required to store your things with us. We can work with you on a month to month or bi-monthly basis for payment. Since our storage rates are affordable, you don't have to worry about the cost exceeding your moving budget. We make sure that when you're moving, our storage units in Greensboro NC are cost-effective.
Our Storage units in Greensboro NC are customized to fit your individual needs. The Greensboro warehouse is 38,000 square feet. We understand that while moving, you may need extra space for many different reasons. Not only are our Greensboro and Raleigh storage warehouses affordable, but able to handle any storage load you have.