Corporate Relocation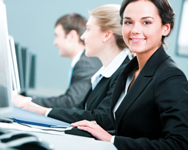 At Excel, we are the North Carolina moving company focused on your comprehensive corporate relocation solution. We understand how stressful corporate relocation can be, as transporting your employees is an involved process that needs the best North Carolina relocation services. We also realize the taxing nature of corporate relocation on the employee while they are preparing to move. We take all of these factors into consideration when planning and coordinating corporate relocation to ensure a smooth transition for all involved.
As your North Carolina moving company, will begin your corporate relocation with a customized move plan for the employee. From packing and unpacking services to storage and auto shipping, Excel can manage every last detail of a corporate relocation with our North Carolina relocation services. We will move the employee's belongings safely and efficiently, ensuring a successful corporate relocation.
RALEIGH CORPORATE RELOCATION
Whether your employee needs to move across the state or to another corner of the globe, we can accomplish any corporate relocation, anywhere in the world. All items of an employee's shipment will be inventoried to ensure that nothing is lost while in transit. If you are relocation an employee overseas, we can help with customs clearance and other paperwork required. Whether it's a local, interstate or international corporate relocation, Excel is the company to get your employee where they need to go.
Excel can handle your employee relocation to guarantee a seamless transition to a new location. We can execute policy development to outline specifics for your employee relocation and establish guidelines for a corporate relocation. We consider the needs of both your business and the employee when approaching this important transition. With our North Carolina relocation services, your employee will be relocated in the most efficient manner possible.
GREENSBORO CORPORATE RELOCATION
When deciding on a North Carolina moving company to successfully accomplish your corporate relocation, Excel is clearly the best choice. We understand that we're not only transporting your employee's belongings, but their entire lives as well. We customize our North Carolina relocation services to provide a streamlined, stress-free corporate relocation.