Logistics Services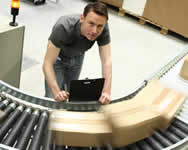 At Excel Moving and Storage, our distribution, warehousing and logistics services are customized to meet the needs of our clients. The North Carolina logistics services we provide help to manage your assets and tasks that your business may not be apt to handle. From small family-owned businesses to massive Fortune 500 corporations, our North Carolina logistics services can facilitate your warehousing and distribution processes.
With our expansive 100,000 square foot North Carolina warehousing facility, we are well-equipped to handle your distribution processes. We offer commercial storage, pick and pack, residential and business to business deliveries, cross docking and inventory management out of our North Carolina warehousing facility. Our commercial shipping, warehousing and last-mile services mean that your inventory is available on-time, when it's needed.
RALEIGH LOGISTICS
Many companies choose us to handle their distribution needs. These companies arrange that we manage the distribution of their inventory to their customers. We are the cost-efficient option for expedient home deliveries of inventory. We can also manage the receiving, inventory, reporting, billing and collections for our clients. Our reliable, professional deliveries ensure that your customers will receive their orders in the most efficient manner possible.
We also specialize in hotel installation as part of our logistics services. We offer turn-key project management for hotel installations. When a brand new hotel is opening or an old hotel is going through a renovation, we manage the warehousing and distribution for the hotel. We will clear out all of the old components and implement all the new furnishings. Our North Carolina warehousing facility handles the storage needs for the hotel furnishings while in between transportation. We will hang pictures, assemble beds and every other facet involved in readying the hotel. Our hotel installation offers an inclusive solution for our clients.
GREENSBORO LOGISTICS
Our North Carolina logistics services also cater to the needs of the online market. When a customer makes an online purchase, our distribution capabilities ensure that the product is received, transported and delivered to the customer in a timely fashion. We also specialize in deluxing services, where the product is unwrapped, assembled, touched-up, etc. With our deluxing options, we go above and beyond our clients' expectations.
We operate many North Carolina logistics services, from storing and delivering marble fireplaces to hotel installation. Our comprehensive North Carolina warehousing facility and distribution services help you better manage your business while we manage your assets. When in need of cost-effective and efficient North Carolina logistics services, Excel Moving and Storage has your solution.